Pink is a color that exudes charm, sophistication, and playfulness all at once. Our users wowed us with their creative use of this lovely hue, transforming ordinary spaces into vibrant, eye-catching retreats for our recent DecorMatters "Pink" interior design challenge.
From blushing bedrooms to rosé-hued living rooms, we received a kaleidoscope of pink-themed designs that showcased the power of pink and brought life and personality to any room.
After all, who says decor has to be serious? We believe in having fun with design, and what better way to do it than with the cheerful color of pink? Get ready to be inspired by some of the best pink interiors around!
1. Moody Relaxing Nook
Have you ever dreamed of creating a cozy nook to curl up with a good book or simply unwind after a long day? DecorMatters user @boheme created a one-of-a-kind retreat with her use of moody colors and playful pops of pink throughout the space.
From the gorgeous pink wall color to the comfy seating and playful cactus decor, every detail has been thoughtfully chosen to create a space that feels both inviting and energizing. And let's not forget the bold statement artwork and stunning pink flowers that add an extra splash of personality to the space. But perhaps our favorite touch is the use of black accents, like the sleek ladder and chic artwork, to add just the right amount of contrast and depth. This space is the perfect example of how to add a splash of color to a moody setting, creating a balance that is both relaxing and energizing.
2. Elegant Pink Bedroom
Feast your eyes on this stunning bedroom design by DecorMatters user @cindyjean! This creative designer managed to perfectly balance antique patterns and textures with bold and elegant touches to create a space that is both cozy and chic.
The intricate details in the bed frame and throw pillows pair perfectly with the grandeur of the large leaning artwork and luxurious lighting. And if you thought this space couldn't get any better, think again - a feline friend perched on the ottoman adds a touch of playful personality.
Pink is incorporated throughout the space, from the delicate bedding to the gorgeous wall colors, and even the sunset streaming through the window. This bedroom is a true masterpiece that showcases how to mix and match patterns and textures with ease, creating a space that is both luxurious and inviting.
3. Dazzling Living Room
Get ready to cozy up in style with this modern living room design by DecorMatters user @karokafka! This stunning space combines comfort and style seamlessly, with marble side tables and a chic pink sofa taking center stage.
The color pink is added through abstract artwork, walls, and furniture, creating a cohesive and vibrant palette. But it's the small details that really make this space shine - the Polaroid camera, flowers, and greenery in vases add a personal touch that makes it feel like home. And if that's not enough to make you fall in love, the sparkle and natural breeze that fills the room helps you to feel the environment and experience the cozy atmosphere as if you were really there.
4. Natural Dining Room
Looking for a dining room that's both elegant and stunning? The talented user @marsanadams created a space that's truly one-of-a-kind, with a realistic and well-put-together design that's very impressive.
Pink takes center stage in this space, with seating and wall colors creating a soft and welcoming atmosphere. But it's the accent touches of black - from the dining table to the mugs and even the background wall patterns - that really make this space special. And let's not forget the greenery, perfectly placed in corners of the room and adding just the right amount of natural beauty to this stunning dining space. So whether you're hosting a dinner party or just enjoying a quiet meal at home, this dining room is perfect.
5. Luxurious Guest Room
App user @nasa75's guest room design is a sleek and luxurious space for any guest to enjoy. The subtle use of pink in the walls, artwork, and flowers adds just the right amount of color to the room without overpowering the neutral color palette of black, white, and greys. Plus, the touches of greenery bring a sense of freshness and life into the space.
This design features elegant furniture, particularly the chairs, providing a nice contrast of dark and light colors. Guests will surely feel pampered with the luxurious details like the fluffy towels waiting for them. Overall, this guest room is perfect for those who appreciate the beauty of adding small accent touches of color to their home.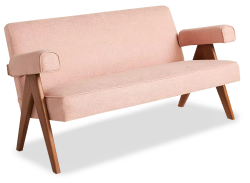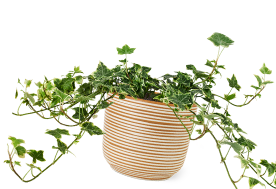 Want to visualize real furniture in your room?
Design Now
We hope that the beautiful pink-themed designs from our DecorMatters users have inspired you to add a touch of pink to your own space. We want to thank all of the talented designers who participated in our Pink challenge and used our app to bring their design visions to life.
For those who haven't joined the DecorMatters community yet, what are you waiting for? Download our interior design app today and start designing your dream home at your fingertips, completely for free. With our app, it's super easy to visualize colors and furniture in your real home, and who knows, maybe your design will be featured in our next design challenge blog!