Springtime is now, and what better way to welcome the arrival of a new season than with an interior design challenge? Our home design app recently hosted the "Spring Awakening" challenge, inviting our users to transform their living rooms and bedrooms into fresh and inviting spaces, using their creativity and imagination.
The results were nothing short of spectacular, with so many amazing designs being shared in the community. From bold colors to chic decor pieces, our users truly outdid themselves in this challenge. So sit back, relax, and get ready to be inspired by the top 5 interior designs that caught our eye during our Spring Awakening challenge!
1. Fresh Spring Corner
Created by the talented @ajayda, this cozy and inviting space boasts a unique blend of modern and bohemian elements that instantly transport you to a peaceful oasis. The clever use of cacti and greenery adds a refreshing touch of nature to the corner, while the carefully curated coffee table decorations, including a stack of books and a scented candle, create a warm and welcoming vibe. We also can't ignore the adorable furry friend sitting comfortably on the sofa, adding an extra layer of coziness to the design. All in all, @ajayda's spring corner is a true work of art!
2. Bright and Cozy Living
If you're looking for inspiration to create a bright and cozy living room this spring, look no further than @aliciadw's stunning design. This talented app user has curated a space that radiates warmth and comfort, while still maintaining a chic and sophisticated vibe. The white and neutral-colored furniture serves as a perfect canvas for the natural material accents, including a wooden coffee table and woven planter. The greenery artwork adds a pop of color and life to the room, while also complementing the surrounding plants and flowers. It's clear that @aliciadw has a keen eye for detail, and the result is a living room that feels like a breath of fresh air.
3. Traditional Living Room
Who says you can't have a traditional living room with a touch of spring? @lenadalin's design is proof that you can have the best of both worlds! This talented app user has created a space that seamlessly blends classic furniture styles with playful patterns and seasonal accents. The use of patterns in the chair and rug adds a fun and fresh touch to the room, and the classic accent table anchors the design and gives it a timeless feel. A beautiful painting is hanging on the wall, adding a touch of artistry to the room. And of course, no spring living room is complete without a bouquet of flowers!
4. Relaxed Reading Room
If you're looking for the perfect spot to curl up with a good book this spring, @nzia's beautiful reading room design is for you. This talented app user has created a space that exudes relaxation and comfort, while still maintaining a stylish edge. The black and white color palette serves as a chic backdrop for the touches of neutral colors in the cozy lounge chair and woven rug. And what better to accompany a cozy reading nook than a cup of coffee? The bookshelf and stack of books not only serve as functional storage but also add a personal touch to the space, showing off @nzia's love for literature.
5. Nature-Filled Bedroom
The talented app user @toots1 created a space overflowing with greenery and flowers, bringing the outside in and creating a calming oasis. The soft-colored bed sheets serve as the perfect canvas for the pops of color provided by the spring florals, while the hanging greenery on the lighting adds an unexpected touch of whimsy to the space. But perhaps the best part of this design is the open windows, allowing for plenty of natural light and fresh air to flow into the room. It's clear that @toots1 has a deep appreciation for the beauty of nature, and their design is a testament to that.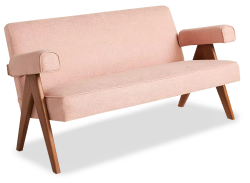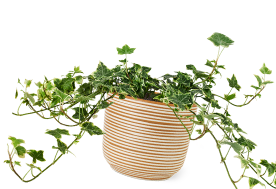 Want to visualize real furniture in your room?
Design Now
The Spring Awakening interior design challenge in our app has truly brought out the creativity and design skills of our talented users. From @ajayda's cactus-filled corner to @nzia's relaxed reading nook, we've seen an amazing variety of designs that have inspired us all.
If you're feeling motivated and want to try your hand at interior design, we encourage you to download the DecorMatters app! It's a fun and creative way to unleash your inner designer and virtually decorate with different styles and themes. Plus, you can follow the users mentioned above along with 10M other designers. So what are you waiting for? Unleash your creativity.