Welcome to another invigorating edition of the DecorMatters blog! If you're not already acquainted with us, allow us to introduce ourselves: We're the creators of the DecorMatters app, your go-to platform for everything interior design. Recently, we hosted an exhilarating "Modern Trends" interior design challenge that saw hundreds of creative minds put their best design foot forward.
Modern design isn't just about pretty aesthetics; it's a blend of scale, flow, functionality, and—let's not forget—comfort. These are the cornerstone principles that breathe life into any space, making it not only visually captivating but also imminently livable.
We're thrilled to spotlight the top 5 standout designs for living rooms and bedrooms, each a distinguished winner from our 'Modern Trends' challenge. But we're going beyond mere inspiration—consider this your comprehensive guide. As we unpack the intricacies of these exceptional designs, we'll arm you with actionable tips to elevate your own living spaces to new heights of style and comfort.
Light and Airy Living by @lady_rose
One of our standout winners in the "Modern Trends" challenge is @lady_rose, who enchanted us with her take on a living room that embodies the essence of natural lighting and airy spaces. With her design, you feel like you're almost outside, enjoying a gentle breeze and the soft touch of sunlight on your skin.
Firstly, @lady_rose made strategic choices to maximize natural light. She opted for wide, open windows that not only illuminate the room but also cast subtle, artistic shadows on the furniture, creating a dynamic visual interest. Coupled with the muted tones of her décor, it conjures a soft and cozy atmosphere that instantly welcomes you.
Flow and openness are central to this design. From the unobstructed pathways to the smart placement of furniture, everything invites movement and a sense of space. It's this airy quality that transforms a regular living room into an oasis of tranquility.
Expert Tips: Feeling inspired by this luminous and open living room? Here are some actionable steps to help you recreate this aesthetic in your own space. First, opt for transparent window treatments such as sheer curtains; they'll invite more light into the room while still offering a degree of privacy. Next, aim to arrange your pieces in a way that complements rather than obstructs natural light sources. Also, consider choosing furniture with a lighter color palette. Lighter shades not only brighten the room but also reflect light, contributing to that desired airy feel.
Nature-Infused Bedroom by @delene
This design was crafted by none other than @delene, an ingenious app user who knows how to blend modern aesthetics with the tranquility of nature. This bedroom is not just a place to lay your head; it's an oasis. With potted plants placed strategically around the room and nature-inspired greenery artwork hanging above the bed, it's clear that @delene has a penchant for infusing organic vitality into a modern space.
What really takes this design to the next level are the cleverly used accent decors—think feathers and floral arrangements that breathe life into corners you didn't even know could exhibit character.
Expert Tips: Begin by introducing potted plants that are easy to care for, like snake plants or peace lilies. Opt for art pieces that reflect your personal connection to nature—whether that be seascapes, landscapes, or intricate botanical sketches.
White & Wooden Wonders by @michellelm
This space, created by the talented @michellelm, showcases a splendid blend of white and wooden elements that evokes a sense of tranquility, effortlessly merging modernism with comfort. Michelle artfully employs a clean, wooden backdrop, which acts as a canvas for the soft white textures that populate the space. The result is a calming atmosphere where each element feels both intentional and harmonious.
One can't help but notice the scale of her design—the way her choice of a low-slung, mid-century modern sofa adds a spacious feel, while wooden coffee and side tables bring an organic depth to the room. It's an alchemy of form, function, and finish that epitomizes modern interior design.
Expert Tips: Start with a neutral base—think white walls or a light-toned rug. Then layer on wooden elements, but remember, balance is key. A wooden bookshelf here, a walnut coffee table there, but always keep an eye on proportion. Oversized furniture can quickly overwhelm, so opt for pieces that maintain a sense of airiness. Finish it off with some white or wooden accents to tie it all together.
Balanced Elegance by @giwtaba
You know a design has reached the pinnacle of luxury when it stops you in your scrolling tracks, and that's exactly what happened with our next featured winner, @giwtaba. This bedroom is a sumptuous feast for the eyes, blending unique textures and luxurious accents seamlessly.
What sets this bedroom apart is its masterful use of materials. Picture this: a plush, fuzzy bed frame that beckons you to dive in, juxtaposed against silky, elegant drapes. Add to this a lighting fixture that isn't just functional but also a sparkling piece of art, casting a celestial glow over a refined, black wooden dresser.
The genius of this design lies in its balance. It could easily have tipped into the realm of excess, but @giwtaba astutely marries opulence with function. The lighting fixture is as practical as it is gorgeous, and that plush bed is perfect for a good night's sleep, proving that luxury can also be livable.
Expert Tips: Swap out your conventional lamp for one with a bit more glitz. Consider adding a velvet throw or silk cushions to your existing bed setup. And always remember, the aim is to complement, not compete with, the room's existing elements. The key is balance — adding just enough luxe elements to elevate your space.
Crafting Luxury with Comfort by @nasa75
This design created by @nasa75 is a captivating blend of luxury and comfort that leaves a lasting impression. When it comes to furniture, the designer opted for a sumptuous sectional, which not only exudes an air of opulence but also offers an inviting space for relaxation. Paired with this is an expertly curated neutral color palette, offering an understated yet elegant backdrop to the room.
Try Your Own Design
From the intricate patterns gracing the accent wall to the large, luxurious artwork, every element was intentionally chosen. Even the lighting—a grand fixture that almost serves as a centerpiece—complements the design elements perfectly, enhancing the room's overall character. The finesse truly shines through in the fittings and color choices. By utilizing neutral shades, the designer was able to balance the bolder features of the room, such as the grand lighting and intricate wall patterns.
Expert Tips: Consider a sectional that beckons with both its form and comfort level. Opt for a neutral color scheme but enliven it with a few choice accent pieces. Don't shy away from artwork or lighting that makes a statement but keep the scale in mind to maintain a balanced look.
Ready to Transform Your Space?
Our top 5 winners from the DecorMatters "Modern Trends" challenge have shown us the incredible range of what can be achieved by keeping in tune with elements like scale, flow, functionality, and color.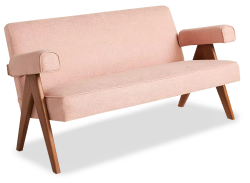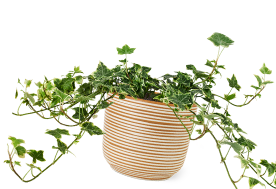 Want to visualize real furniture in your room?
Design Now
Now, it's your turn to bring this inspiration into your own home. With the DecorMatters app, it's easier than ever to incorporate these modern design gems into your living room and bedroom layouts. Start by experimenting with textures, colors, and furniture placements, and watch your space transform before your eyes.
We'd also love to see what you come up with! Don't miss out on the chance to showcase your design prowess. Keep an eye out for future DecorMatters design challenges, because your innovative idea could very well be the next big trend. Until then, happy decorating!