Flowers aren't just pretty to look at, they can transform any dull space into a lively and refreshing sanctuary. With sweet fragrances and eye-catching colors, flowers have been the go-to accessory for home decorators for centuries.
We hosted an interior design challenge called "Flower" in our app DecorMatters, where we invited users to showcase their creativity by infusing homes with the beauty and freshness of flowers. From whimsical kids' rooms to romantic bedrooms, each space was transformed into a floral oasis. The imagination and cleverness that went into these designs will have you feeling inspired to spruce up your own home with some fresh flowers.
So, grab a cup of tea and get ready to be inspired by the top 5 designs from our Flower challenge!
1. Bright and Blooming Living Room
This masterpiece was crafted by the one and only @carolscreation, and we can't get enough of it. The stunning white sofa practically glows in the sunlight, with open windows bringing the outside in and making this living room feel like a true oasis.
The space is open and airy, with the perfect balance of greenery and bright blooms. It's like walking into a secret garden that just happens to be your living room! This design is proof that sometimes less is more, and all you need is a few well-placed flowers to transform your space into a breathtaking haven.
2. Fairytale Kids' Room
Get ready to step into a floral fairytale with the stunning kids' room designed by our app user @cindyjean! This room is straight out of a storybook, with its whimsical floral wallpaper and a crib fit for a little prince or princess. The coffee table blooms and lush greenery in the background create a magical atmosphere that sparks imagination and creativity. The soft fabrics and delicate florals make this room the ultimate cozy retreat for any child. We're personally in love with this floral wonderland, and we bet your little ones will be too!
3. Neutral Floral Bedroom
Who says flowers have to be loud and in your face? App user @elleetmoi proves that flowers can be incorporated into your bedroom design in a subtle and stunning way. A beautiful bouquet placed on the side table and delicate blooms incorporated in paintings and artwork create a peaceful atmosphere for a good night's sleep.
The bedroom's neutral and natural color palette is enhanced by the soft touches of floral accents, creating a chic and calming space. It's a subtle nod to the beauty of nature, and we're absolutely smitten with this design.
4. Natural Dining Room
App user @heart_and_home has done it again with this stunning dining room design! The gorgeous wooden dining table and chairs provide a natural and organic feel to the space, while the natural lighting creates beautiful shadows that dance across the room. But the real standout is the perfectly placed splash of pink flowers on the side table next to a lush green plant, bringing a pop of color to the stunning color palette of whites and neutrals.
And let's not forget the woven placemats and fresh orange juice, adding a touch of warmth and hospitality to the space. This dining room is a feast for the senses, it exudes warmth, and we can't help but imagine gathering around the table with loved ones and enjoying a meal in this breathtaking space.
5. Fresh and Luxurious Living Room
App user @nasa75 has truly outdone themselves with their stunning and luxurious relaxing room design. The luxurious living room elements, from the cozy rug to the statement mirror reflecting light, make for a space that's both indulgent and inviting. But it's the floral touches that really take this room to the next level.
The large, bold floral painting is a statement piece that sets the tone for the entire space, while the floral pillows add a touch of whimsy and fun. And let's not forget about the fresh flowers surrounding the room in vibrant shades of yellow and pink, creating a lush and colorful atmosphere that's perfect for unwinding after a long day.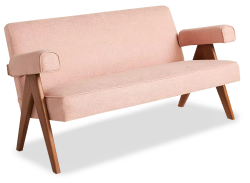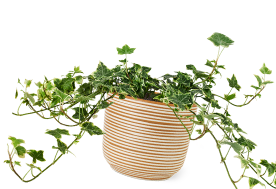 Want to visualize real furniture in your room?
Design Now
From a single bloom to a bold statement piece, the power of flowers is undeniable. A big thank you to all of our talented users who participated in the challenge and shared their incredible designs with us. Perhaps you're feeling inspired by these designs, don't hesitate to download the DecorMatters app and start designing your dream home today! With over 10 million users and daily decorating games, you'll have everything you need at your fingertips to design the space you've always wanted. So what are you waiting for? It's time to let your creativity blossom!